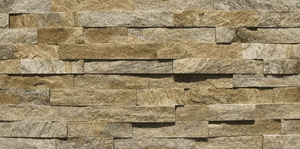 Natural Stone siding Collection
As stone siding gained popularity, more and more companies began producing natural stone siding that was cut to a standard thickness from quarried stone or field stone. The most obvious advantage associated with real stone siding is that it is the authentic stone. When properly installed and cared for, stone siding will last indefinitely and stand the test of time.
Natural stone veneers feature extraordinary strength and everlasting beauty, making it the perfect choice for all types of exterior and interior projects. By installing stone siding veneer, home owners ensure that a smart long term investment in their home translate into good resale value.
Lifetime warranty and low maintenance requirements make natural stone veneer a favorite choice for any residential or commercial wall siding project. 
Features:
Remarkable strength and resilience
Architecturally unique and ageless design
Time-tested performance against extreme temperatures, stains, fire and chemicals
Mitigates moisture and increases energy efficiency
Noise reduction
Backed by a lifetime warranty!
Dimensions:
Flats:
Length: 24" x Width: 6" x Thickness: 1" - 1.5"
Corners:
Length: 12", 8" x Width: 6" x Thickness: 1" - 1.5"
**

FREE SAMPLES

Please note that due to high shipping fees, all sample purchases are final sale and we do not accept return requests.
**However, the Shipping & Handling fees are 100% rebatable if you place the actual order. In that case we would credit the total of your order and deduct the cost of the samples you purchased.
 
ORDERING PROCESS:
At Discount Stones, we believe
ordering stone products online
should be simple and hassle free! We process your order to include absolutely all fees so there are no surprises.
Your order is delivered straight to your driveway and you will receive updates for each stage of the ordering process. You can choose (request) to receive as many or as little updates as you want.
All updates are sent through email to keep the communication records on file.
Discount Stones - the largest selection of wholesale stone veneer 
Additional design ideas, installation tips, or potential business connections can be found in our Partnerships and Affiliations page.
Check out what our satisfied customers are saying about their purchase experience with Discount Stones.
Because our stone veneers are shipped straight from our suppliers directly to your driveway, it means you pay only the stone veneer clearance price and we always offer the cheapest stone veneer on the market.
Are these real stones? Could you tell me the price for a 303sqft room?

Discount Stones offers two types of stone veneer - Natural stone siding and stone panels are fabricated from real natural stone pieces and cut to have same thickness. They are priced US$8.99/sq.ft and have LIFETIME manufacturer warranty. 

Cultured manufactured stones and brick veneers are made from various mix of concrete and molded and colored to look like a natural stone. They are priced US$6.99/sq.ft and have 50-year limited warranty. 

For calculating veneer quantity, you have to multiply each wall WIDTH x HEIGHT and add up all four walls together (minus any openings), to get the total quantity in sq. ft. for flats. 
For corners you have to add up all corner HEIGHTS in linear feet (if you have four corners, and wall is 7 ft high, you'd need 4 x 7 = 28 linear feet of corners). 

You can get a price (quote) for any quantity of stones needed by selecting your stone and entering the needed quantity into the Shopping Cart. 
Check out the veneer siding Ordering process, and our quantity discount can be found on this page. 

If you have a question that is not answered in one of our help pages, you can always ask our friendly product specialist directly.