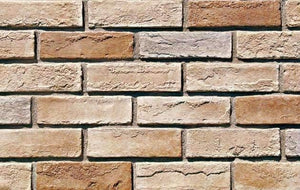 Brick Veneer Collection
Our Brick veneers look and feel like the authentic brick and are multi-purposeful, augmenting nearly any surface. This light and durable product is easy to install making it ideal for any type of project, whether it is for a modern kitchen using a mix of materials in a single family home, or an industrial edge for a multi residential project. 
Provides decorative and protective covering for both exterior and interior walls and perfect solution to beautify any part of your home. 
**Note: This is not a "clip-on" or "screw-into-the-wall" vinyl or faux material. All brick veneers require mortar for installation. Please refer to the Installation Guide for more details. 
Product Dimensions 
Flats: 
Length: 8" x Width: 4" x Thickness: 0.5 - 1" 
Corners: 
Length: 8", 4" x Width: 4" x Thickness: 0.5 - 1" 
Brick Veneer Features: 
Authentic look and exceptional value 
Frost resistant 
Non-combustible 
Eco-friendly 
Lightweight design 
Architecturally unique 
Backed by a 50-year warranty 
**
Free Samples 
Please note that due to high shipping fees, all sample purchases are final sale and we do not accept return requests. 
**However, the Shipping & Handling fees are 100% rebatable if you place the actual order. In that case we would credit the total of your order and deduct the cost of the samples you purchased. 
Make sure to take advantage of our quantity discounts and save on shipping costs. 
Ordering process: 
At Discount Stones, we believe 
ordering stone products online
 should be simple and hassle free! We process your order to include absolutely all fees so there are no surprises. 
Your order is delivered straight to your driveway and you will receive updates for each stage of the ordering process. You can choose (request) to receive as many or as little updates as you want. 
All updates are sent through email to keep the communication records on file.
Are these single brick pieces or a panel?

All brick veneers are a single (loose) thin brick pieces which require mortar for installation.

It's $7 for one brick?

The price for brick veneers is calculated per square foot (not per single brick). We apologise for confusion. 
Each brick requires mortar for installation (no "clip-on" or screws).
Imagine if you could be satisfied and content with your purchase. That can very much be your reality with the
Alamo Ridge - Country Brick
.
Our low cost, versatile, durable, and temperature variation resistant veneer siding allow you to easily add luxurious stone finishing to almost any indoor or outdoor surface.
The more veneer your order, the more you save. Each veneer is basically offered at discounted price if you order more than 500 sq. ft.
Take a look at our
veneer discount chart
for more ways to save.
Page content Last Updated: Oct 04, 2023 by
Discount Stones Marketing Department