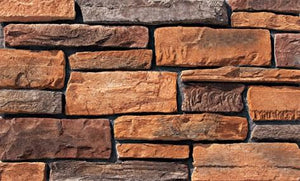 Cultured-Manufactured Stone Veneer
---
It looks just like a natural stone 
Our lightweight, versatile, durable, and multi-purpose manufactured stones allow you to easily add luxurious stone finishing to almost any surface 
The product styles and color blends can interchange between rustic to contemporary style treatments and formal or traditional applications as well, making it suitable for any residential or commercial project. 
All manufactured stones are the light weight exact replica of the original natural stone and the main advantage of stone veneer siding made from synthetic materials is that they are less expensive. Our manufactured stones are modeled from natural stone, to truly capture it's beauty, texture and style. Usually made from a mixture of Portland cement, natural aggregates, and iron oxide pigments for coloration. The liquid mixture is poured into molds, where it sets into a stone-like shape. Once formed, each of the stone pieces can be set into mortar in much the same way natural stone is. The result is a durable, fireproof, very solid material that looks incredibly realistic and designed to be low maintenance.  

Also known as architectural stone, cultured stone, or manufactured stone veneer, all these fabricated veneers come in a broad palette of colors and styles. Invoke your creativity by combining colors and shapes of these decorative stone siding products to beautify any part of your home. 
Make sure to check out our Natural stone siding collection, Brick veneer collection, and Stone panels collection. 
For easy store navigation go to Discount Stones site map. 
---
---

Top quality decorative building materials - cultured manufactured veneers will dramatically change the way your home looks and significantly increase the value of your property.
Our inexpensive manufactured stone veneer siding is notably lighter and easier to work with than natural stone, but provides the same visual effect and feel.