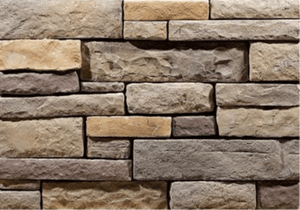 Manufactured Stone Collection
Manufactured stone veneer is also known as man-made, architectural, fiber-cement, cultured, or simulated stone siding. According to the home improvement television network HGTV, fiber-cement siding has grown in popularity among homeowners in recent years. Our low cost cultured veneer does not require much maintenance, and it's non-flammable and resistant to termites. Cultured stone-veneer siding is less expensive than natural stone and also comes in an array of styles. 
Each cultured manufactured stone veneer is the light weight exact replica of the corresponding real natural stone. Our stones are modeled from natural stone, which was used as the inspiration when creating manufactured stone version, to truly capture its natural beauty, texture and style. Manufactured stone veneer is usually made of concrete and Portland cement mixed with natural or artificial pigments or extremely dense polyurethane that is poured into prepared molds. HomeAdvisor notes that fiber-cement siding can create the look of wood, stucco or masonry, making it a versatile option capable of creating various looks. In addition, fiber-cement siding is known for its durability, with some products coming with warranties lasting as long as 50 years. 
Our lightweight, versatile, durable, and multi-purpose cultured manufactured stone siding allow you to easily add luxurious stone finishing to almost any indoor or outdoor surface. Our product styles and color blends can interchange between rustic to contemporary style treatments and formal or traditional applications as well, making it suitable for any type of residential or commercial wall siding project. Replacing exterior siding is one of the most significant home improvement projects homeowners can undertake. Stone siding project can give homes a completely new look, which is why choice of siding is such an important decision. 
All stone siding veneers are equally suitable for interior and exterior wall application on almost any surface. Many homeowners fall in love with the natural appeal of manufactured stone. Additional benefit of architectural stone siding is the improved insulation value (as much as R-4.5) - which is helping you save money in the long run. Stone siding options are so extensive that homeowners are urged to discuss each veneer option with a siding professional (mason) before making their decisions. 
Product Dimensions
Flats:
Length: 4" - 16" x Width: 1" - 4" x Thickness: 1" - 2.5"
Corners:
Length: 4" - 16" x Width: 1" - 4" x Thickness: 1" - 2.5"
Product Features
Frost resistant
Non-combustible
Eco-friendly
Lightweight design
Architecturally unique
Backed by a 50-year warranty
**
Free Samples
Please note that due to high shipping fees, all sample purchases are final sale and we do not accept return requests.
**However, the Shipping & Handling fees are 100% rebatable if you place the actual order. In that case we would credit the total of your order and deduct the cost of the samples you purchased.


Ordering process:
At Discount Stones, we
believe ordering stone products online should
be simple and hassle free! We process your order to include absolutely all fees so there are no surprises.
Your order is delivered straight to your driveway and you will receive updates for each stage of the ordering process. You can choose (request) to receive as many or as little updates as you want.
All updates are sent through email to keep the communication records on file.
Discount Stones - the home of the
wholesale stone veneer clearance
Additional design ideas, installation tips, or potential business connections can be found in our Partnerships and Affiliations page.
Check out what our satisfied customers are saying about their purchase experience with Discount Stones.
Because our stone veneers are shipped straight from our suppliers directly to your driveway, it means you pay only the stone veneer clearance price and we always offer the cheapest stone veneer on the market.
I can't figure out how many flats to order without knowing how many square feet in a flat. The product dimensions that are listed would allow for the square feet per flat to vary between 1/3 of a sq. ft. to 1.25 sq. ft. How do you suggest that I place an order? Any suggestions for estimating the square feet per flat?

Hello Sue. 
There is no need to bother with the individual veneer sizes because all you need to know (calculate), is the total surface that you want to cover in veneer. 
Wall width multiplied by height will give you the total surface in sq. ft. and then you just add up all heights to calculate quantity of corners (in linear feet). 
Everything else will be sorted out by the manufacturer (i. e. number of veneers per box, number of boxes per palet). 
Please contact us through email (Sales@DiscountStones.com) for faster response and for any help with calculation. 


what is the size of a flat? how many square foot?

Each stone product has unique size (especially natural stone veneers). If available, veneer dimensions are always posted in product details.
Your siding journey begins here! Visit Discount Stones'
blog for Best veneer siding tips
you will read this year.
Take your pick and impress your friends with virtually maintenance free
Wolf Shadow - American Ledge
veneer. OMG! The best veneer siding ever!
Page content Last Updated: Dec 06, 2023 by
Discount Stones Marketing Department