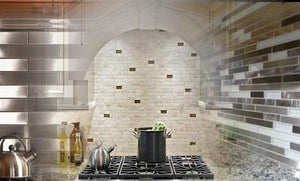 Tiles
---
Discount Stones Tile Collection
Natural and classy look 
With our assortments of more than 80 tiles there are a plenty of choices for all types of inside projects.
Contemporary style and design ensures a great looking kitchen or bathroom walls.
Discount Stones Tile selection offers a solution for every kitchen or bathroom project. We provide fast delivery with free shipping to any location in the US and Canada.  
Strikingly stylish layouts and patterns; varied sizing and earthy color spectrum for trim, back-splashes, accent walls, and more. 
Natural light-friendly surfaces; polished, translucent and reflective tile body in each mosaic adds to better effusion of natural light in residences and commercial areas. 
Enduring, low-maintenance surfaces; resistant to moisture, odor, bacterial and mold growth for healthier living. 
Straightforward installation. 
Make sure to check out our Natural stone siding collection, Brick veneer collection, Manufactured stones and Stone panels collection. 
For easy store navigation go to Discount Stones site map. 
---
---