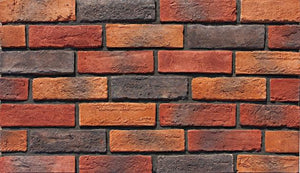 Brick Veneers Collection
---
Authentic look and exceptional value 
Our Brick veneers look and feel like the authentic brick and are multi-purposeful, augmenting nearly any surface. This light and durable product is easy to install making it ideal for any type of project, whether it is for a modern kitchen using a mix of materials in a single family home, or an industrial edge for a multi residential project. 
Note: These are not a "clip-on" or "screw-into-the-wall" vinyl or faux panels. All brick veneers are single-piece thin bricks and require mortar for installation. 
Our low-cost thin brick veneer products with their numerous color textures, provide unlimited design combinations for your walls. 
Very few home improvements will dramatically change the way your home will look as much as stone siding.There are a lot of different options for the style and look of your siding, allowing you to give your home a customized exterior, even changing the color if you feel. 
Thin brick veneer products offer a perfect solution 
to beautify any part of your home. 
Make sure to check out our Natural stone siding collection, Manufactured stone collection and  Stone panels collection. 
For easy store navigation go to Discount Stones site map. 
---
---
These inexpensive, thin and lightweight stone veneers provide decorative and protective coverings for both exterior and interior walls of your home.